CONFIDENCE – INTIMACY – PERFORMANCE
We understand.  
Sexual health and performance is a topic that men are reluctant to talk about.  Research states that 40% of men have experienced some sort of sexual performance anxiety by the age of 30, and that % often increases with every decade.
We all want to feel strong, confident and have intimacy with our partner.
Let Men's Vigor be your doorway to optimum health and performance in your life and in the bedroom.
While Drug Therapy is the typical approach to treating inadequate blood flow it only provides a quick fix solution and does not address the underlying physical condition.  Now there is a way to get back in the game safely and effectively.
No drugs, no surgery, no downtime.  Health Canada Approved.
SOLVE FOR THE WHY AND NOT JUST THE WHEN
Bring back spontaneity and get your confidence back with a treatment that eliminates performance anxiety and activates your body's natural healing processes so you can perform at your best.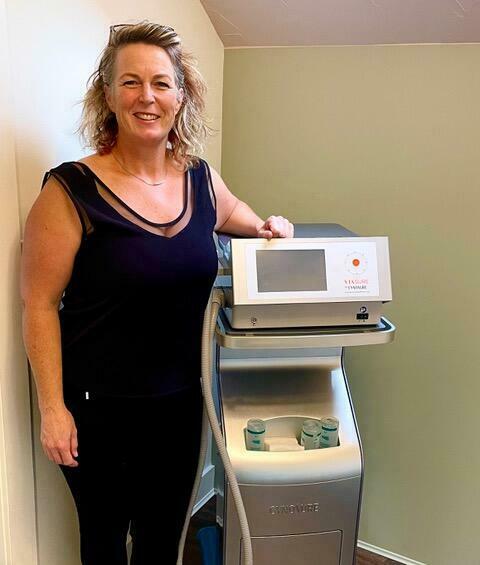 Tara opened Men's Vigor with the intention of improving lifestyle and being the best version of yourself.  Impressed with technology that is becoming available, but with limited access, men's Vigor is the only clinic on Vancouver Island to offer this incredible service for men.  Sexual health is never discussed in men's lifestyle.  Tara intends to bring sexual health and lifestyle to the forefront for everyone to understand and make new paths to a improved sex life and share this news with others.
Prior to opening Revitalize Laser Clinic, Tara was an elementary teacher, passionate traveller, restaurateur and constant entrepreneur, most recently opening Foxy Box Laser and Wax Bar Nanaimo, specializing in hair removal and Revitalize Laser Clinic, the Premier Face and Body Clinic.
Beth Alden - Wellness Coach
Beth Alden has been a health and wellness coach on Vancouver Island for the past 15 years.  She is passionate about the outdoors, golfing, travel, cooking, as well as health and fitness. Beth owned Kickstart Fitness for 14 years and helped hundreds of people become the best version of themselves. 
Not only is Beth a certified medical aesthetician, but she is also a certified personal trainer specializing in weight loss, a nutritionist, as well as an Ironman Coach.  In 2018, she sold her business to pursue her dream of sailing around the world. When Covid hit she found her place back in the health and wellness field teaming up with Tara and her passion for helping people live their best lives.
Beth has an extensive business background, earning her the honour of business of the year in the Oceanside area.